Is there a flower difference for men and women?
Though flowers have a traditionally feminine association, some events require a more masculine flower arrangement.
Masculine arrangements tend towards stronger shapes and/or bolder colors.
Tropical inspired flowers and plants are good choices for a more masculine look.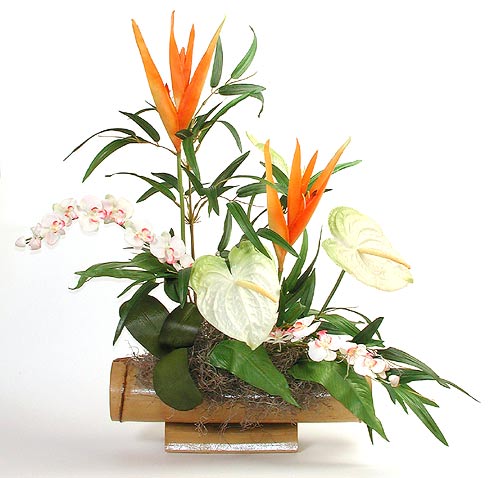 Contemporary floral arrangements with strong clean lines and a more natural style, are also great for guys.
And of course you can't go wrong with succulent gardens.
And speaking of manly flowers….here are some masculine inspired arrangements that were made by Ralph Rios in the ACC Floral Lab. Ralph designed these for a Men's Golf Benefit.
I just love the deep colors and the strong textures. Robust and bold..perfect for a gala of men!
What a treat!  Went to see the Shoal Creek Gallery  exhibit IN BLOOM / FLORA ARTE + FINE ART
IN BLOOM, is an installation project featuring noted Austin floral designers who find inspiration in contemporary art. FLORA ARTE showcased Benoit Ballon, owner and French master designer at King Florist; Bonni Taylor and Madeleine Landry, whose eclectic spirit defines Posey Design and Floral; Mario Gaitan and Keith Burnham, the seasoned creative duo of Westbank Flowers; Carly Blair, the passionate and talented owner of Margot Blair Floral.
Gallery owner Judith Taylor invited each designer to create an interpretive installation inspired by works from gallery artists. Drawing on color, composition, texture or simply the subtle hint of suggestion, each guest designer presented an original masterpiece of FLORA ARTE. The first presentation of IN BLOOM was hosted by the gallery in 2009 and drew tremendous crowds. Paintings by four gallery artists were selected for In Bloom 2015: Rene Alvarado, Shawn Camp, Karen Kunc, and Sydney Yeager.
And stepping into an installation allows you feel you are inside of the art.
Mixing flowers with art…what a delight!